about the institute
Welcome to FH Medical College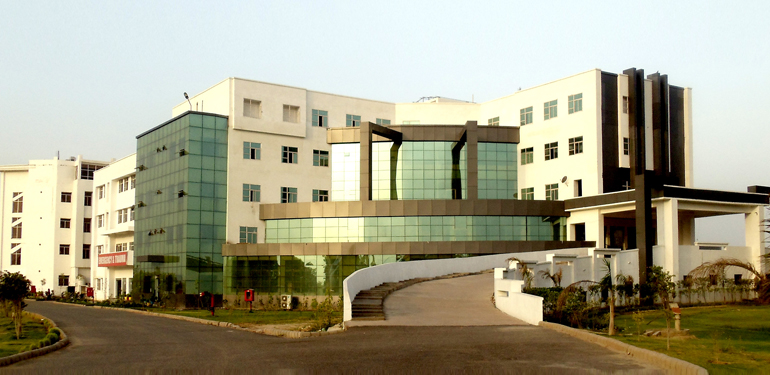 At FH Medical College we cater the needs of students by providing high quality Medical Education and training and we wish the students to develop as a complete Doctor- full of sympathy and empathy for the suffering humanity.
There are two objects of medical education: one is to heal the sick, and other is the advancement of
science. Our Medical College leverages the scientific capabilities, expertise and resources to provide the medical education fully focused on preparing physicians for the medicine of tomorrow.
We have dedicated and highly qualified teaching faculty members who at every step are ready to counsel the students. An in-built system of continuous internal assessment helps the students to keep abreast with the teaching and self-evaluation simultaneously. Sports and recreational facilities provide the students opportunities to de-stress and relax. Well-equipped laboratories, high-tech state of the art investigative facilities, including CT Scan, and ICU at hospital campus provide the students with the needed facilities for teaching and training. The central library with a large number of books on varied fields of medical educations, well recognized national and international journals along with facility of digital library provides an extraordinary environment for learning and excellence in education.
In the 21st century, with the progress in medical science people in general are living more years and mortality from infectious diseases has dramatically decreased but the rapid industrialization and proliferation of technology has produced negative effects on our environment resulting into newer types of non- communicable and lifestyle diseases, posing a great challenge to the medical fraternity. The requirement of doctors for treating the sick and doing research to address this newer disease is increasing day by day all over the world including our country. F H Medical College and Hospital already has so much to be proud of. Striving to excel in the fields of teaching, research and patient-care FH has made a mark as a premier institute working at an accelerated pace continuously at converting new knowledge into tangible health benefits.
Renowned as an institution with a well organized compliment of senior faculty members from all over the country, the learning environment of FH pulsates with the enthusiasm of making collaborative discoveries and innovations in health care, education and research. The students are taught and trained to become zealous medical professionals with the positive competency to shape the fields of science and medicine throughout the world with expertise and passion.
Apart from scholastics, students of FH are also encouraged to take part in numerous extra-curricular activities. Ranging from sports, cultural and oratorical events, the sprawling campus is constantly abuzz with lively social gatherings and programs. Seldom is there ever a dull moment in the hostel and grounds of FH.
At FHMC Medical education does not exist to provide students with a way of making a living, but to ensure the health of the community.
Marching forward meticulously
FH Medical College perseveres to create, nourish and sustain an environment that is built on intellectual curiosity, sense of honor, social awareness and a healthy spirit of competition in the classrooms and residence halls, on the playing fields, and at meetings of clubs and organizations. At FH the door is always open for an individual to become an integral part of the global community. We provide innovative, high-quality education through its well-recognized curriculum, emphasizing early clinical experiences, continuity as a guiding principle, integration of the basic and clinical sciences, and innovative teaching and learning methods such as small-group tutorials, standardized patients, computer-assisted instruction, clinical training models, and interactive lectures and laboratory exercises.
FH HOSPITAL
FH medical college has fully functional hospital with capacity of 650 beds, well equipped with all major facilities of advanced technologies in medical sciences. The hospital has a 5 storied building, with Trauma and emergency services available 24x7.
All emergency cases are looked after by the emergency medical officer under supervision of specialist faculty of the concerned specialty. The facilities of emergency surgery are also available in the causality / emergency department. The nursing college is associated with FH Hospital, this gives the maximum of nursing care to the patient. All the emergency staff is trained in dealing of any kind of medical emergency. The students of FH Medical college get the good number of patient to learn the medicine.
All the reception area and patient record system is fully computerized. Hospital has the huge parking area, beautiful lawns, own transformer and generator to ensure 24 hours availability of power.
OPD Block
A huge OPD complex has been provided with waiting lounge and separate reception counters for male & female patients. It can cater to more than 1500 OPD patients daily. It has separate examination rooms, for all medical fields separate dressing room, injection rooms, dark room, room for eye-testing, child rehabilitation room, maternity room. This block has several demonstration rooms for students teaching, on patients.
Indoor Block
A five storied building has 650 beds at present. Besides these Emergency, ICU, ICCU, NICU, PICU the operation theatres, department offices and chambers for faculty are located in this building.
click here